My first day in Switzerland came with instructions. I wish I would have saved the email but it was funny (in a very caring, friendlike way). I was to drink plenty of water, not take a nap of more than one hour and we would do a short tour of Zurich (if I felt up to it).
It was a bit cloudy but Zurich really is beautiful AND very, very clean. Littering is a bad, bad thing in Switzerland. The public toilets are also sparkling clean but a bit pricey. Hey, you pay for cleanliness.
There is a great story about the saints that were martyred in the very spot where I was standing when I took this picture. Please note that they were decapitated and then PICKED UP THEIR OWN HEADS and (depending on the story) proceeded to bury themselves. That seems a bit extreme to me but then I have never aspired to sainthood.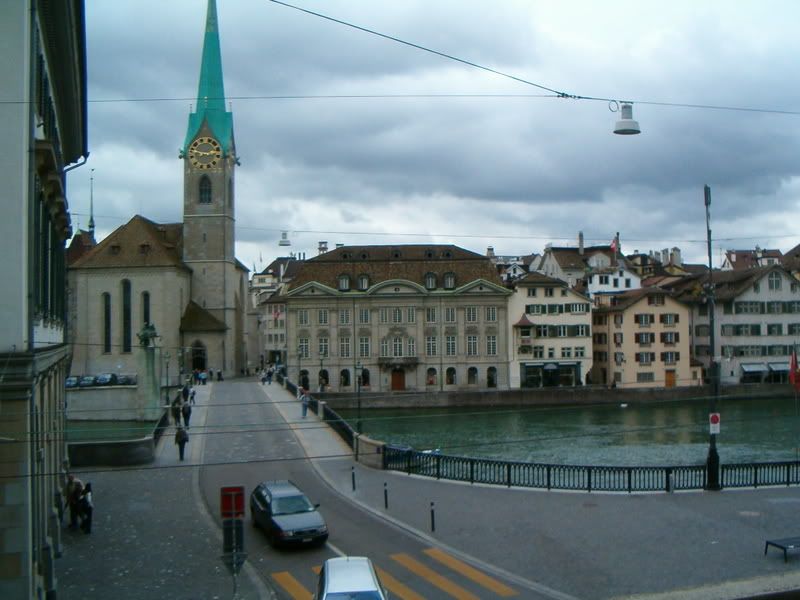 Legend has it that Felix and Regula, Roman Christians and the patron saints of Zürich, fled to the city from the massacre of their legion in Valais in the third century AD. They were martyred by decapitation on the site of today's Wasserkirche for refusing to pray to Roman gods, whereupon they picked up their heads and carried them up the hill to the spot where they wished to be buried.