I really liked the Musée d'Orsay but I LOVED the Musee Rodin, which makes sense because he is one of my favorite sculptors. It was also one of the most well designed and focused museums I have ever seen, housed in Rodin's house. Oh, and one of my favorite authors was his secretary for a while.
As an aside, in the book of essays I just read it talked about distinguishing the literature from the man (or woman) author. I believe it is the same with art. I don't have to like the sculptor to recognize the genius of his work. (He wasn't the kindest man around.)
Anyway, here are a few of my favorite pieces...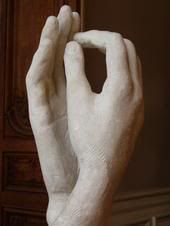 For some reason, I can't find this on the museum website so I can't tell you the name of the piece.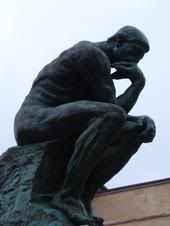 The Thinker

And what could be more charming than a whole group of art students sketching The Thinker?